This is the first of 10 blogs highlighting a particular wrapper than I used during each of my first 10 years in business.
This first one, was an opportunistic sale.
It was the middle of June, relatively warm, and I was walking in to Camberley Town Centre.
One of the pubs I passed (I believe, now since closed), was the Dolphin. They had a large blackboard outside advertising an event.
"Christmas in June".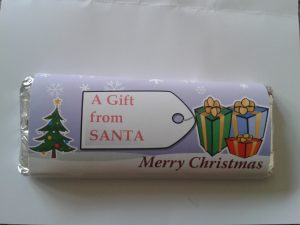 Yes, that's right.
The pub was going all out for a Christmas themed day – in the middle of June.
Turkey (albeit barbecued), presents, decorations, tree.
Now I realised there was another important part of Christmas.
Chocolate.
I went into the pub, ascertained exactly how mad the owners actually were, and proposed that they have some of my Christmas design bars. Of course I didn't have that range with me (it was June after all), so I returned shortly afterwards and made a very satisfactory sale. All due the unusual event run by the Dolphin !