This is the second of 10 blogs highlighting a particular wrapper than I used during each of my first 10 years in business.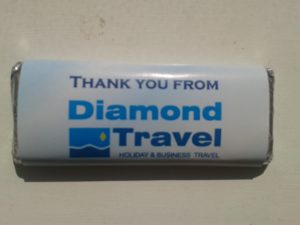 Today's example comes from my second year of trading.
I had joined a networking organisation and met one of my first business customers.
A lady called Olein Webster. She ran (and indeed still does run) a bespoke holiday service (https://diamondtravel.ltd.uk/) . She puts together a unique holiday itinerary based her clients' needs, organises tickets etc.. a fabulous lady and a fabulous service.
Imagine though you are a client of Olein's.
You've booked this wonderful holiday and enjoyed every minute of it.
You are now returning home.
You've left your holiday airport (with all its waits, delays, hustle and bustle). You've arrived back in the UK (now slightly fractious due to jet lag, more waits, hustle, bustle) and you've arrived home.
You push hard on the front door, a huge pile of post lies on the mat.
After you have carried in your suitcases (probably in British rain), you start to go through the post.
Bill.
Bill.
Unwanted junk mail.
Bill.
Unwanted junk mail.
Bill.
And a letter from Olein.
Inside the letter is a thank you letter from her saying "Welcome back from your holiday – hope you had a good time, thank you for booking with me"… and a chocolate bar too.
You sit back, enjoy a cup of British tea and enjoy the chocolate.
The rigours of the journey home melt away, and the holiday memories flood back.
Thank you Olein.