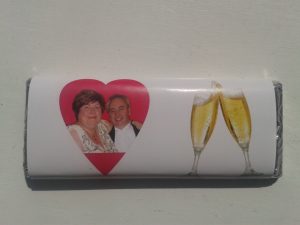 When I started my business I didn't have a website, as there was a proprietary website for all the 'My Little Wrappers' around the country. However, as time moved on, more and more of us sought to have our own website.
It was while I was in this consideration phase, I was telephoned out of the blue by Mark 'Fez' Harrison and he agreed to set me up a website. For about 6-7 years he maintained and kept my website up-to-date.
Mark is a magician (aka 'Fez the Jezter') and asked me to exhibit at a magician's conference in Frimley. I didn't sell much chocolate that day, but it was fun watching all the other exhibitors selling and performing their wares!
Nearly seven years ago Mark married Karen and he asked me to produce some favour chocolates for the wedding breakfast. The wrapper showed Mark and Karen on the front and the wedding date on the reverse. This was printed in a rich purple colour matching the wedding decoration.
I know the wedding was a great success as I've spoken to them since, and more recently, but what I also know is that the chocolate was very much enjoyed…or else Mark made it all disappear!
PS Happy 7th Anniversary, Mark and Karen, for a few week's time!