Zoe Saari of www.live-youareawesome.com has recently received some chocolates. Here's what she had to say…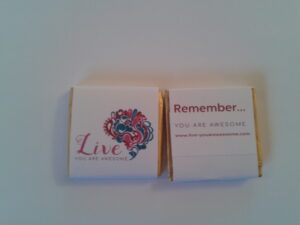 I was recommended to Graham by my business coach and have been nothing but impressed by the service I received. It has been a pleasure doing business with Graham who has made the whole process very easy and the product is fantastic and great value for money.
I am a Life Coach and will use the chocolates to promote my business at networking meetings and also send them out with my branded Self-Discovery Journal. I will definitely be doing business with Graham again! www.live-youareawesome.com.

Thanks Graham!