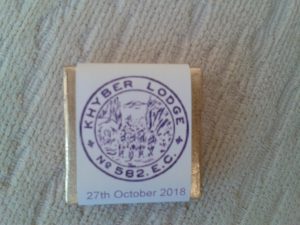 The Khyber Pass – immortalised in the film "Carry on Up the Khyber" – actually filmed in North Wales – is now wholly in Pakistan following Partition in the late 1940s.
Prior to Partition there was a Masonic Lodge (Khyber Lodge) founded in Peshawar in the 1850. A strong Lodge even though it wasn't based in the UK. Following Partition the Lodge moved back to the UK, still retaining its original name, and thrives to this day.
Recently a ladies night (and weekend away!) was held with these chocolates forming part of the Grand Dinner Celebration!